Day Forty One: Saturday 20th July
PM: 7.5 k X-Trainer/Run. Exhausted and in pain. Also lacking any motivation, so I listened to my body and finished. About 500 calories expended.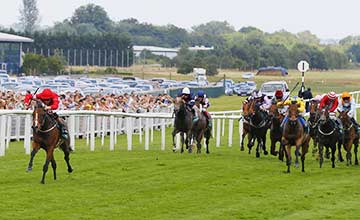 Tiggy Wiggy destroyed a decent Newbury Super Sprint field and put herself in line for the Nunthorpe
Day Forty Two: Sunday 21st July
PM: Left my legs alone and in the evening, gave myself a full upper body workout, something I really enjoyed.
Lots of core work. Very few people in the gym and I took full advantage. Then saw the gang in the sauna and boiled myself like a lobster for an hour. Enjoyed this much more than yesterday and felt great after.
Day Forty Three: Monday 21st July
PM: A much much better session in the cardio room, with a 10k blast culminating in a HR of 166 and a 16kmh sprint for two mins, the fastest I have run over that time. The sauna is never as much fun after a run as it is after weights. Feel back in the groove.
The weather was like something out of a Hemingway novel; humid, hot and capable of creating an all over body sheen, a car wash beneath your shirt. I was on BB business today and I was compelled to wear my summer suit for the first time in a year and a half.
Here's me commemorating the last day of FOPP on Queen Street. Luckily it is moving, rather than closing. Love FOPP
Day Forty Four: Tuesday 22nd July
Afternoon: A brilliant cycle along the Trail to Bilsthorpe. It's around 15 miles there and back and on the way there, I took my time, enjoying the sights and sounds of an English Summer day. And it was hot too - humid and very, very sunny. I saw the above slogan painted on a disused railway bridge about a mile from Bilsthorpe. On the way back, I hit my stride and took me half the time. I can't explain why that happened - but there were moments of speedy joy which I am aching to repeat next week.
Evening: An hour on the weights. Really struggled. I find weight training boring and always have done. Running is all about motion and momentum, the quest for rhythm, the search for that perfect moment where you lose yourself absolutely inside your own thoughts and your body floats along. Cycling too, but not so much.
Weight training just doesn't do it for me and each session is a chore, a payment, a cost.
It doesn't help that I cannot do anything interesting, like shoulder press, because of my long term neck muscle problem. Nor can I carry out the old posing standby, the bicep curl, because of weakness around my elbows. Boo to weight training...too much like hard work.
Day Forty Five: Wednesday 23rd July
AM: A run to Farnsfield and back along the trail. Approximately 11 miles, perfectly flat. I also ran half a mile there (though not back). Hot day - perhaps too hot for running (drank two pints of water before I left).
So eleven and a half miles without stopping for the first time since November 2012. And this morning (Thursday), I don't feel too bad. I wonder whether I can try Bilsthorpe and back next week in prep for the Nottingham run? That would be a flat 15 miles...
Day Forty Six: Thursday 24th July
AM: Weight Training.
Yay. :-(